Providing the best possible services for the people we serve.

MESSAGE FROM THE DIRECTOR
Talofa,
Welcome to the American Samoa Department of Human and Social Services (DHSS) website. It is our hope that this site will provide you with additional information about the many programs and services that are offered through our Department.
It's our mission to provide the best possible services and resources to improve the lives of the people of American Samoa.
Our Divisions offer many programs and services aimed at supporting our communities in the areas of:
behavioral health;
child care;
community-based capacity building activities;
nutritional counseling and education;
referral and support services for individuals with developmental disabilities;
substance abuse prevention, intervention and treatment;
supplemental nutrition assistance for low-income elderly, blind and disabled individuals;
supplemental nutritional assistance for women, infants, and children.

Within our departmental setting, we continue to strive to ensure that everyone is treated with dignity, honesty, courtesy and respect, recognizing that our staff is our greatest asset.

Thank you for your support!

Sincerely,
MUAVAEFA'ATASI JOHN E. SUISALA
Director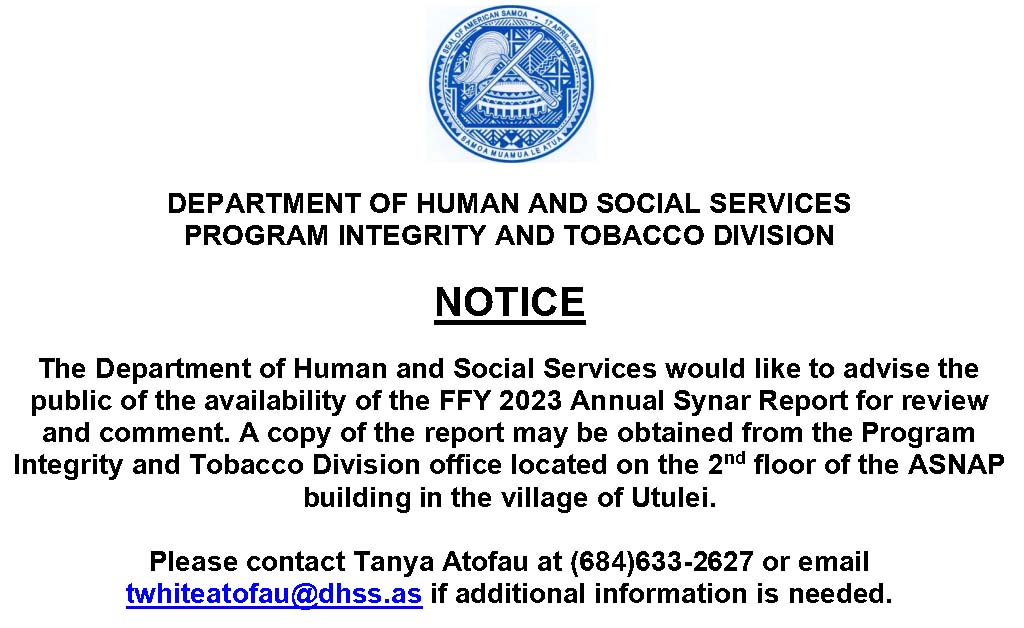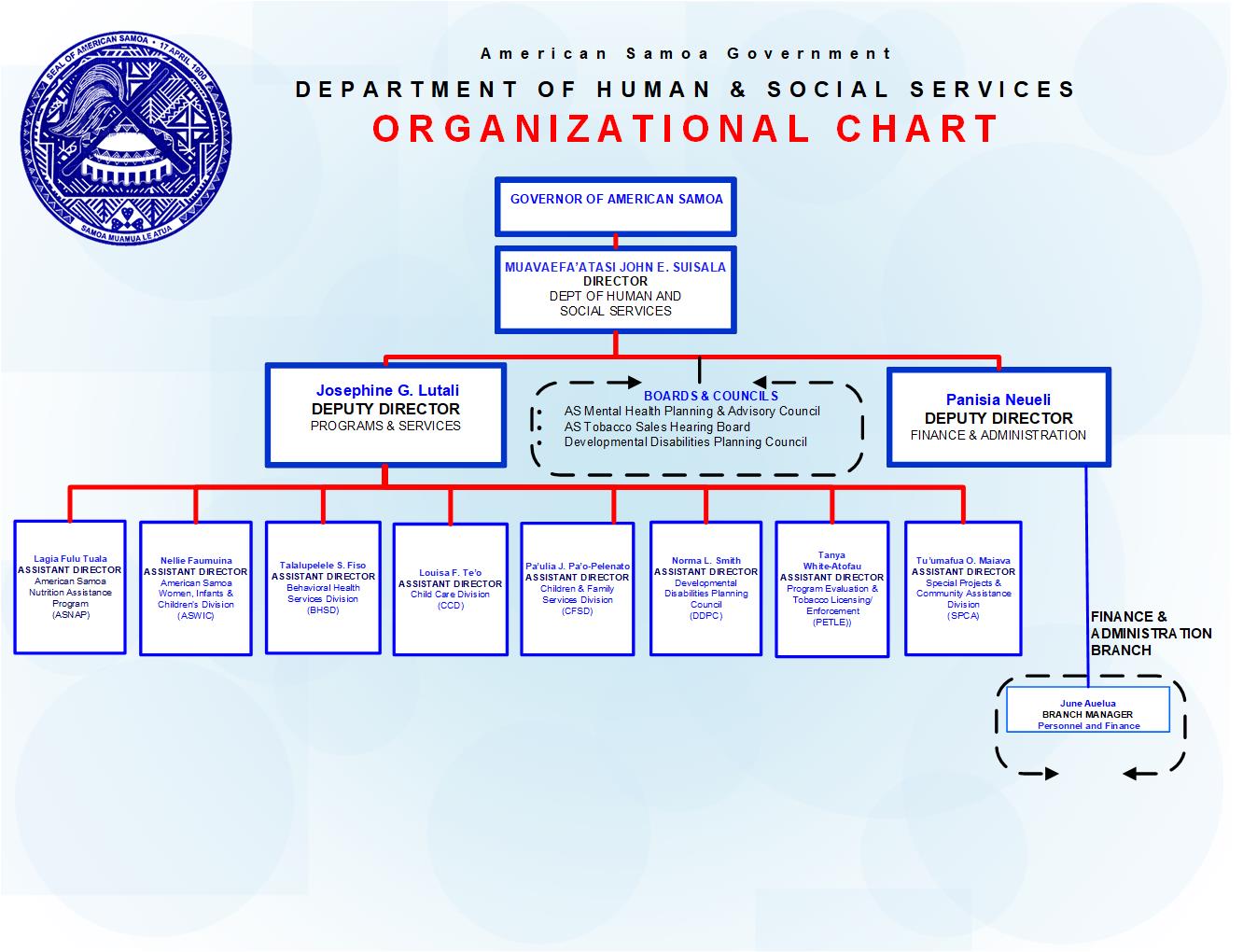 Mission
Providing the best possible services for the people we serve.
Vision
Serve as an organization focused on providing comprehensive resources in the field of human and social services for a healthier, safer American Samoa.
Values
Our Department has established the following core values to guide our work and help us recognize, respect, and appreciate everyone's contribution. We believe these core values are equally important. In view of our mission and vision, we acknowledge our priority to provide quality services to our clients, partners, and the community. DHSS strives to demonstrate these core values in everything we do:
Client-focused Services that are managed, placing client needs and interests at the forefront at all times.
A Collaborative Environment, where we are committed to each other's success and work together to achieve it. We value positive attitudes, relationships, and behaviors in the workplace.
Accountability for our work and behavior; we hold ourselves and each other accountable for professional conduct and the responsible use of resources at all times.
Building Partnerships with each other, our clients, and other service providers to strengthen the delivery of our services.
Business Improvements in our work, incorporating innovative ideas and technologies with best practices.
Communication that is accurate, timely, truthful, and constructive at all levels.
Diversity and Respect in our workforce and community. We are committed to personal and professional behavior that is sensitive, respectful, and understanding of everyone at all times.
Professional Excellence in our employees and the contribution they make in fulfilling our mission and vision.
Quality Service that is responsive, ethical, efficient, effective, and proactive.
Respect , whereby all people that come into contact with the DHSS will be treated with respect. We are committed to:
maintaining confidentiality of clients
treating others with respect regardless of background or situation
displaying honesty in dealings with others
using sound professional practices and keeping up-to-date with best practice standards.